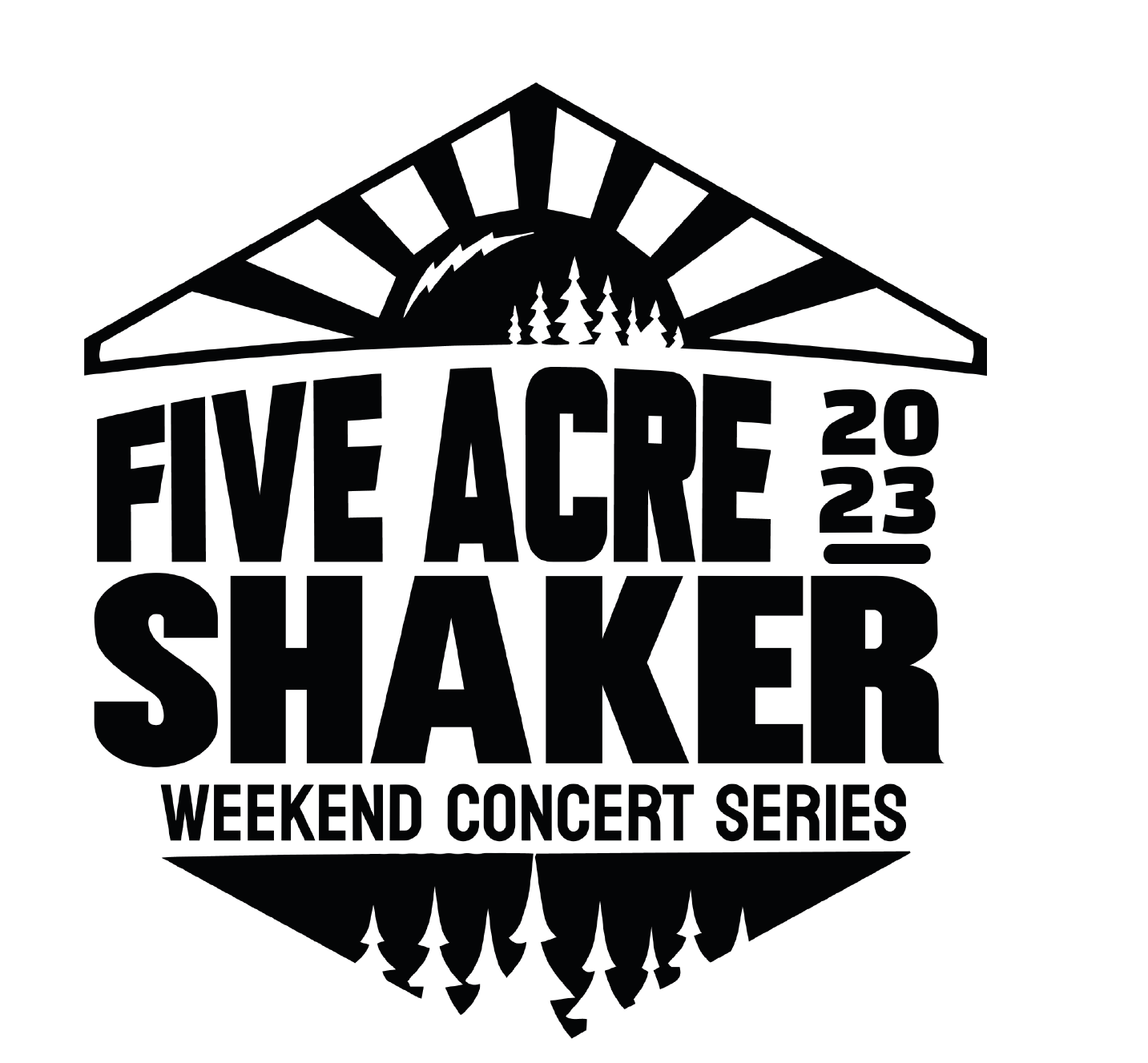 EVENT INFORMATION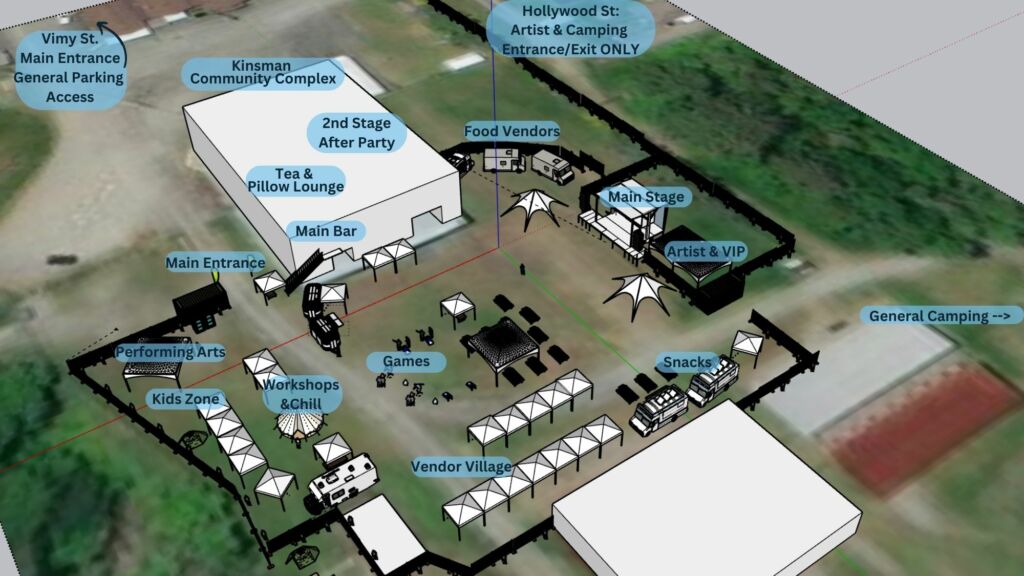 WHAT TO BRING:
Empty refillable water bottle (Glass Protected with Silicon, Metal or Plastic)

Your camera (only Personal Cameras including DSLRs with a Basic Kit Lens and built in flash/microphone, no tripods (for Non-disruptive personal use)

Your friends, family and kiddos!

Please be aware this is an all ages event, but we still require 2 pieces of valid ID (one government-issued) for the purchase of alcohol for 19+ patrons.

Youth (13 – 18) and Kids (12 and Under) must have valid ID or be accompanied by a parent or legal guardian to gain entry.
SECURITY, FIRST AID, LOST & FOUND:
First Aid is available 24/7 during the festival, and is located at the First Aid Tent. Security is also available at all times during the festival.

Lost & Found is located at the main gates. After the event, please contact [email protected] for information on lost items.
FESTIVAL ADMISSION:
Festival gates are open each day from 4:30 pm

Tickets must be redeemed during Box Office hours for wristbands. Box Office hours are 4:30 pm – midnight Friday and Saturday

Empty drink containers are permitted and can be filled at water refill stations located within the festival area. NO GLASS!

All patrons entering the festival grounds are subject to a security check. Patrons coming in with bags, purses and coolers will be directed to a separate check-in and should expect delays.

In's and Out's are permitted with festival wristband.
TOP 5 THINGS TO KEEP IN MIND AT THE SHAKER:
Take care of yourself and others. Wear sunscreen, sleep, do not over consume alcohol, wear proper footwear, stay hydrated and ask for help. We care about you.

Please pick up after yourself, use proper waste, recycling and compost bins provided, and encourage others to do the same.

Hydrate yourself! We have ample water stations throughout the site. We are adhering to current water restrictions, because environmental stewardship is key!

NO FIRES in the camping area! No wood fire pits, charcoal cooking devices or Tiki torches are permitted on site. Please keep propane stoves and BBQs 2 feet off the ground. Have a fire extinguisher on site at your camp.

Your safety is paramount. If you see anything suspicious, violent or illegal, let a member of the festival crew know immediately.
SET TIMES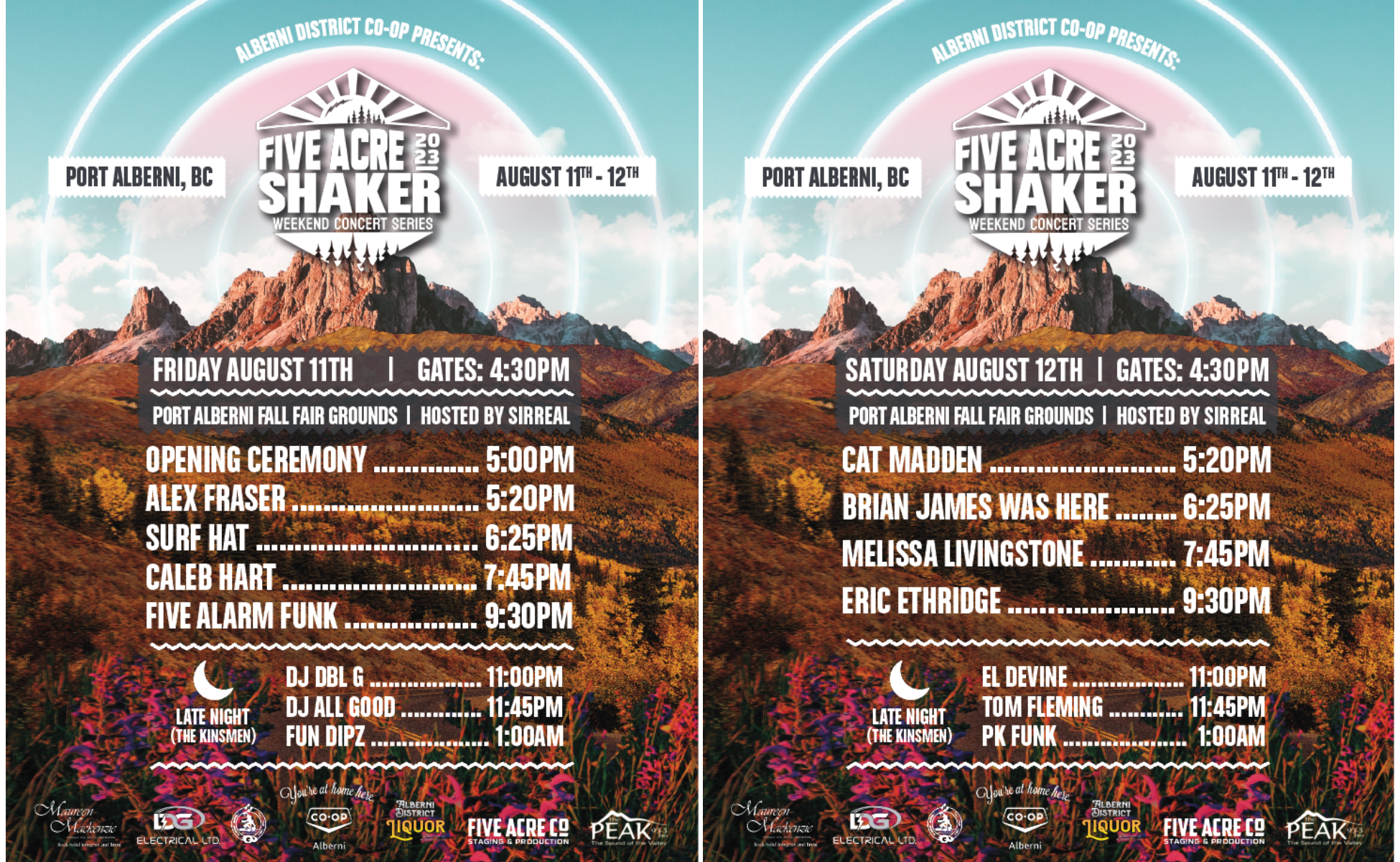 FOOD & BEVERAGE VENDORS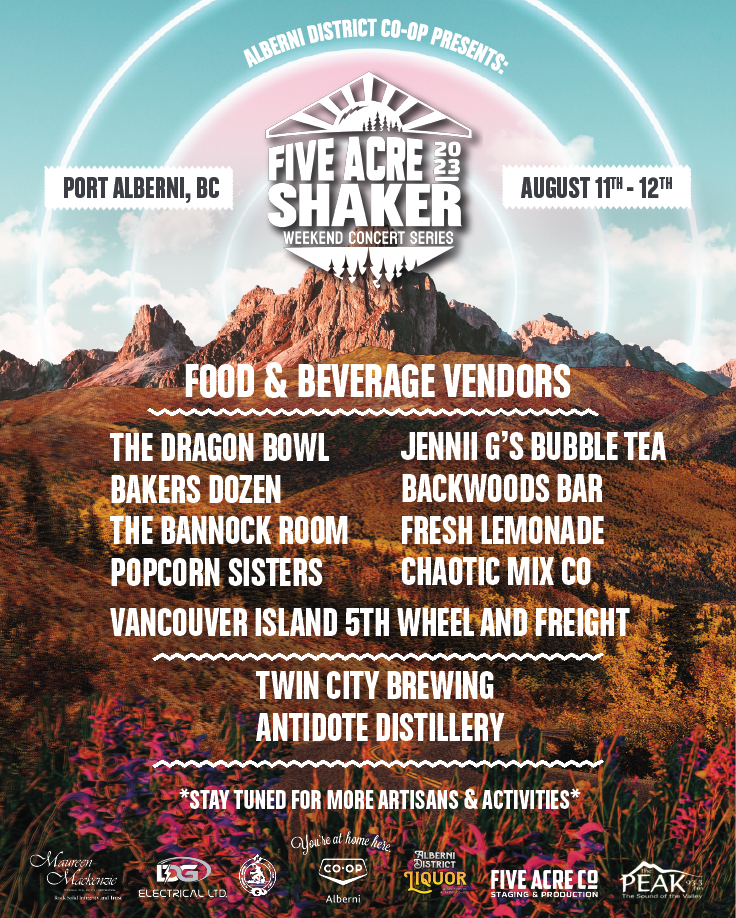 FOOD & BEVERAGE
The Dragon Bowl
Bakers Dozen
The Bannock Room
Popcorn Sisters
Jennii G's Bubble Tea
Backwoods Bar
Fresh Lemonade Stand
Chaotic Mix Co
Vancouver Island 5th Wheel and Freight
LICENCED
Twin City Brewing
Antidote Distillery
FREQUENTLY ASKED QUESTIONS
THANK YOU TO OUR SPONSORS: